Custom content partnership programs
Custom content advertising programs featured a custom landing page that acted as an archive of all related content created for the campaign. We also created companion features to drive traffic to the content: custom designed promotional units, a custom newsletter, and a social media campaign that promoted the special editorial feature on Twitter and Facebook.
De Beers: Light in Art Sponsorship
The partnership with DeBeers included a series of custom articles "The History of Light in Art." which explored light in art history and aligned perfectly with the De Beers brand "Jewelers of Light."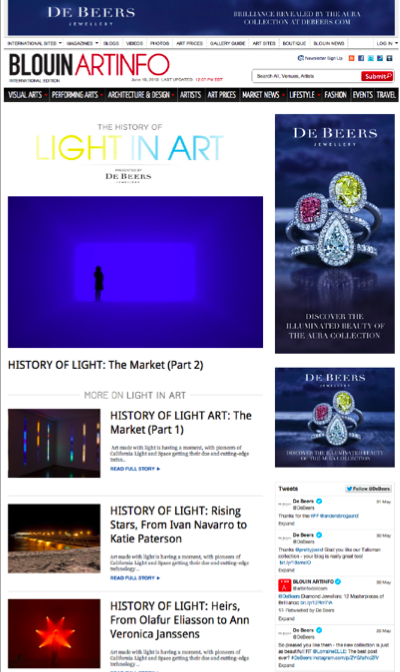 Land Rover: Innovators in Design Sponsorship
The partnership with Land Rover included a series of articles that showcased the top innovators in design from categories including: interior, product, industrial, architectural, conceptual, graphic and interactive and aligned seamlessly with the Land Rover brand as innovators in the design field.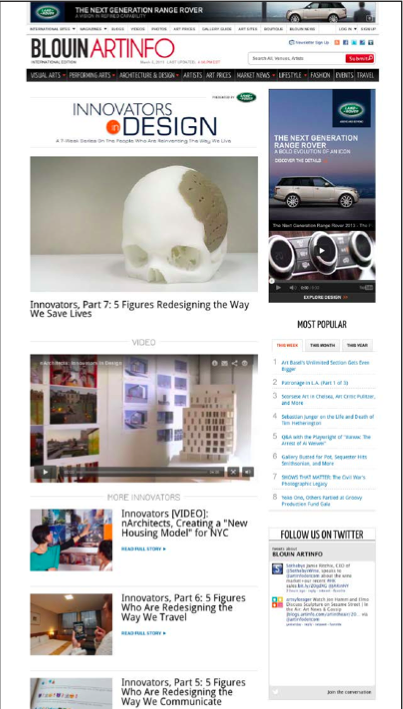 NET-A-PORTER: VIP Style Guide
The partnership with NET-A-PORTER included a digital "Style Guide" feature for the Fall 2013 art world VIP parties. The custom content feature was a curated selection of fashion choices from NET-A-PORTER's website.
Bottega Veneta: Power 100 Sponsorship
The partnership with Bottega Veneta was a sponsorship of BLOUIN ARTINFO's editorial feature: "Power 100 2013.", a list of the 100 most powerful people in the art world.